What happens when plastic surgery goes wrong?
Botched cosmetic surgery can leave patients with nerve damage of serious infections
April 24, 2017
As a Houston medical malpractice lawyer, people reach out to me just about every day for help after something went terribly wrong in their health care. Sometimes it involves care at a hospital, a surgery that went bad, or a mistake at a doctor's office.
Over the years, I have investigated a number of cases involving plastic surgeons performing cosmetic procedures. Plastic or cosmetic surgery procedures include things like breast enhancement (augmentation, lift, and reduction), facial rejuvenation (lift of the neck, eyelid, or brow), body facial contouring (rhinoplasty, and enhancement of the chin or cheeks), and contouring (liposuction and tummy tuck).
In my experience, the most common problems after a plastic surgery that have led people to seek legal advice are nerve damage and infection. There are other potential complications, as well, including bad scarring, hematoma, deep vein thrombosis, pulmonary embolism, damage to other organs seroma, and problems with anesthesia.
Of course, most people who seek out cosmetic surgery are excited about the prospect of enhancing their appearance. There's certainly nothing wrong with that, and statistics show that these proceduers are becoming increasingly popular. Plastic surgeons typically explain how the procedures are "in and out" and there is typically a minimal recover time before you can get back to work.
Beware of the risks of plastic or cosmetic surgery
In many instances, patients are not really aware of the possible complications of cosmetic surgery, and the plastic surgeon glosses over them.
Fox News meteorologist Janice Dean recently spoke publicly about her ordeal following an outpatient plastic surgery procedure on her neck called "fractora."
Fractora is a short laser procedure of less than an hour that is done in a plastic surgeon's office to regenerate your natural collagen and tighten the skin in your neck. Dean's plastic surgeon told her that the positive effects of the procedure would last five years or longer, and her recovery or downtime would be about five days.
Based on the consult that she had with her doctor, she thought that she could have the procedure done over her kids' spring break and be back on the air at Fox News the next week.
After the surgery, she noticed that her smile was lopsided and when she spoke, the words would not come out right. Dean's doctor told her that this happens to one to two percent of patients who have this procedure, but her problems would eventually get better.
Two months later, Dean is still off the air, but she recently was happy to notice that her big smile was coming back.
She said: "These new lasers, injections and cosmetic procedures that look as if they can turn back time? There's a little more to it. There are risks. It takes a while to heal. It's also expensive. There are many possible complications that we need to be aware of before we sign on the dotted line. We should ask our doctors the worst- case scenario so we're prepared."
I couldn't agree more.
What you should do before having plastic surgery
Do some research before selecting a plastic surgeon.
Plastic surgeons do not automatically have the same degree of training in cosmetic procedures. In fact, for plastic surgeons who focus on cosmetic surgery, there is a separate board certification available, through the American Board of Cosmetic Surgery.
The American Board of Cosmetic Surgery requires doctors to complete 300 cosmetic surgery cases, which include tummy tuck, liposuction, breast surgery, face surgery, and other cosmetic surgeries, before being eligible to be board certified.
On the other hand, the more general plastic surgery organization, the American Board of Plastic Surgery, has six required training courses, only one of which is in cosmetic surgery. To obtain board certification in plastic surgery, a doctor is only required to have 150 cosmetic surgery cases.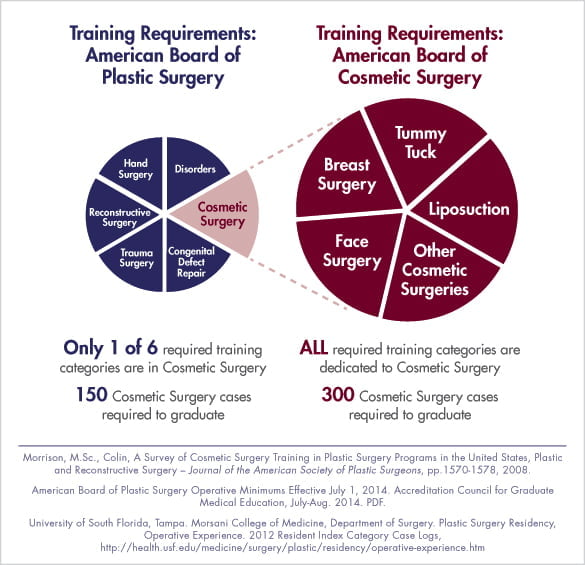 Graphic Provided By: American Board of Cosmetic Surgery
A lot of information is available on line about the experience of plastic surgeons, but on your initial evaluation, I still think it is a good idea to ask about your doctor's experience in the particular procedure you are considering. It never hurts to ask how many times her or she has done the procedure, and with what complication rate.
Once you settle on a plastic surgeon, make sure that you fully understand that risks of the procedure. That way you know what to look out for as you are recovering.
Plastic surgery and nerve injuries
It looks like Janice Dean's nerve injury was temporary. Instead of the nerve being cut or severed, it may have been compressed or bruised. But some nerve injuries that occur during plastic surgery are permanent.
For example, someone recently emailed me about potential medical negligence by a plastic surgeon. What she said really got my attention: "I had plastic surgery, breast augmentation and fat transferred to my buttocks, liposuction to my stomach. My body aches one year later. My legs feel like they are on fire and I can't sit. My breasts ache. I know that my plastic surgeon did liposuction on my legs without my consent. He completely botched my body."
The fact that her legs still have this type of pain a year after her plastic surgery suggests that she may have permanent damage. Depending on the exact location in the legs, these symptoms may be caused by a condition called meralgia paresthetica, from damage to the lateral femoral cutaneous nerve. The pain and terrible burning sensation could also be from a peripheral neuropathy.
When our law firm investigates a medical malpractice case on behalf of an injured patient or family, we hire a medical expert to figure out exactly what happened. If a doctor, nurse, or hospital made a mistake that caused the problem, then we will have the expert prepare a report, which is required by Texas law to proceed with taking the case to a jury.
Infections after plastic surgery
Most medical professionals consider the risk of infection after plastic surgery to be about one percent.
In a broad sense, that is good, but the problem is that many plastic surgeons may be hesitant to diagnose and infection because they know they are rare. You should contact your plastic surgery immediately if you have any of these symptoms after a cosmetic surgery: a fever of 101.5 degrees or more; increasing pain, redness, or warmth at the surgical site; a bad smell coming from the incision; or draining coming from the incision site.
Experienced lawyers are here to help
If you or someone you care for has been seriously injured by plastic surgery medical malpractice, call 281-580-8800 for a free consultation with Painter Law Firm's medical malpractice lawyers.
Robert Painter
Robert Painter is a medical malpractice lawyer at Painter Law Firm PLLC.
related
Pharmacy gives Houston woman another person's prescription by mistake [...]
read more
Painter Law Firm's frequently asked question (FAQ) series [...]
read more
Discuss your case with an attorney.